No Boundaries Sport Coral Gables, Doral, and Fort Lauderdale Services:

Bike Repairs
Retul Bike Fitting
Bike Rent
Bike Trade-In
0% Interest Financing
Bike Repair and Maintenance Services at No Boundaries Sport Miami and Fort Lauderdale Area: Bike maintenance services are essential to keep your bike in good condition and ensure it is safe to ride. Here are some common bike maintenance services:
Cleaning and lubrication: Regular cleaning and lubrication of your bike's chain, gears, and other moving parts can help prevent wear and tear and ensure a smooth ride.

Tune-up: A tune-up involves adjusting the bike's brakes, gears, and other components to ensure they are working properly. This can also include replacing worn-out parts and tightening loose bolts.

Wheel truing: Over time, bike wheels can become out of true or warped, causing the bike to wobble or shake. Wheel truing involves adjusting the spokes to bring the wheel back into proper alignment.

Tire replacement: Worn-out or damaged tires can cause the bike to handle poorly and increase the risk of accidents. Replacing the tires when needed can help ensure a safe and comfortable ride.

Brake adjustment/replacement: Properly functioning brakes are critical for safe riding. Adjusting or replacing brake pads and cables can ensure that your bike stops smoothly and quickly.

Suspension service: If your bike has suspension components, such as forks or shocks, they may require periodic servicing to ensure they are working properly and providing a smooth ride.
It's important to have your bike serviced regularly, especially if you ride frequently or in challenging terrain. Regular maintenance can help prevent costly repairs down the line and keep your bike running smoothly for years to come.
As the leading bike shop in Miami, we pride ourselves on being your go-to experts for bike repair. When you bring your bicycle to No Boundaries Sport Stores, you can expect top-notch customer service along with a thorough and accurate assessment of your bike's maintenance or repair needs. We'll provide you with a free, no-obligation estimate and complete all necessary work in a fast and reliable manner, regardless of whether it's a minor adjustment or a major overhaul.
Our team of highly skilled mechanics is among the best in the industry, and we are committed to providing them with ongoing training and education. At No Boundaries Sport Stores, we take the time to get to know you and your bike, and we're dedicated to helping you make the best decisions for your cycling needs. When it comes to bike repair, you can trust that your ride is in good hands with us.
When your bike needs a tune-up?
Bicycles generally need a tune-up at least once a year, but the frequency of tune-ups can depend on factors such as the amount and type of use, the terrain and weather conditions, and the age and condition of the bike. Here are some common signs that your bike may need a tune-up:
Difficulty shifting gears: If you're having trouble shifting gears smoothly or your bike is skipping gears, it may be time for a tune-up.
Squeaky or noisy brakes: If your brakes are making a lot of noise or they're not as responsive as they used to be, you may need to have them adjusted or replaced.
Worn tires: If your tires are worn or damaged, it's time to replace them. Additionally, if you're experiencing frequent flat tires, it may be time for new tires or a tune-up.
Loose or worn parts: Over time, various parts of your bike can become loose or worn, such as the chain, pedals, or handlebars. If you notice any wobbling or rattling while riding, it's a sign that your bike needs attention.
Creaking or other unusual sounds: Any unusual noises from your bike could be a sign of an underlying issue that needs to be addressed.
If you're unsure whether your bike needs a tune-up, it's always a good idea to bring it to No Boundaries Sport Stores for a FREE inspection. No Boundaries Sport Stores Locator
Bike Care Menu:
Wash and Lube $35
Wash and Lube (we will only clean your bike)
Tune up $79
Wheels off wash and lube
Drivetrain degrease
Gear adjustments
Brake adjustment (hydraulics are an additional $40 per brake starting)
Minor wheel trueing (external nipples/spoke only)
Tape installation additional $14.99
Tire installation additional $9 labor per tire (tubeless +$20 labor per tire excludes valves/liquid/tape)
No parts are included
Overhaul $350
• Complete teardown
 Brake bleeding
 Brake adjustments
 Drivetrain adjustments
 Bottom bracket service
 Headset service
 Rear derailleur service
 New cables/housings for mechanical brakes/drivetrain (extra cost for hydraulics/electronic)
 Any labor related to the installation of new cassette, chains, chainrings, tires, or handlebar tape
 Wheel hub service (+$50 per wheel)
We also offer:
Flat Repair
Chain Installation
Derailleur Adjustment
Bar Tape Installation
True Wheels
Brake Installation
Brake Adjustment
Brake Bleeding
Assembling
Bike Packing
Custom Bike Building
Retul Bike Fitting at No Boundaries Sport Doral or Fort Lauderdale Store: Hello, my name is Joshua Montoya a Master Fitter at No Boundaries Sport certified by BikeFit and Retul fitting methods. Why do I like Fitting? The reactions of the customer! When a rider with pain, discomfort, or the inaccurate position on their bike can achieve a more comfortable, powerful, painless position through the fit it creates a PRICELESS reaction! Do I enjoy Fitting? Yes! No customer is the same which makes every session very interesting. We go through a similar process but customers have individual anatomy and physical characteristics and different personalities which produces a unique experience each time.
Retul Bike Fitting $250
What is done during the Fitting process? The process consists of 3 important steps: Pre-fit Assessment (Interview), Physical Assessment, and Fit.
The Pre-Fit assessment. To be able to sit, talk and get to know the customer is very crucial. The main question I always have is: What is the rider's main concern or what are they looking to achieve with the fitting. I can learn about their experience in riding, the years the customer has been doing it, and dive into their futuristic goals. In like manner, I inquire about their previous injuries. 
The Physical Assessment. During this specific step, I go through a series of assessments. Which include Ischia Tuberosity width, forefoot angulation, arches, pelvis level, knee position, spinal curvature, spinal flexion, hip flexion leg discrepancy, and many others. This process better helps me understand each rider physical's uniqueness, flexibility, and limitations. Without this process bike fitting is incomplete.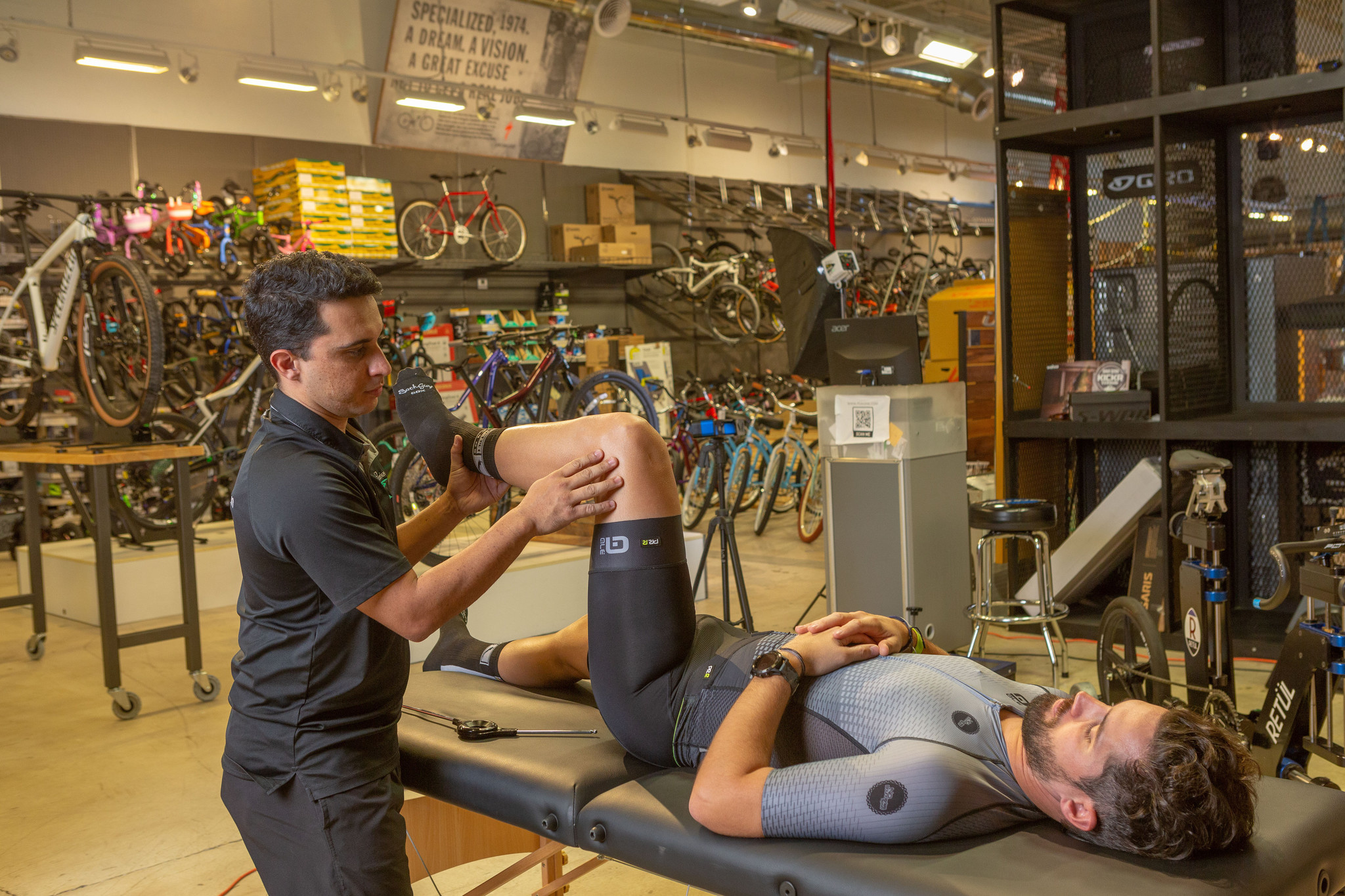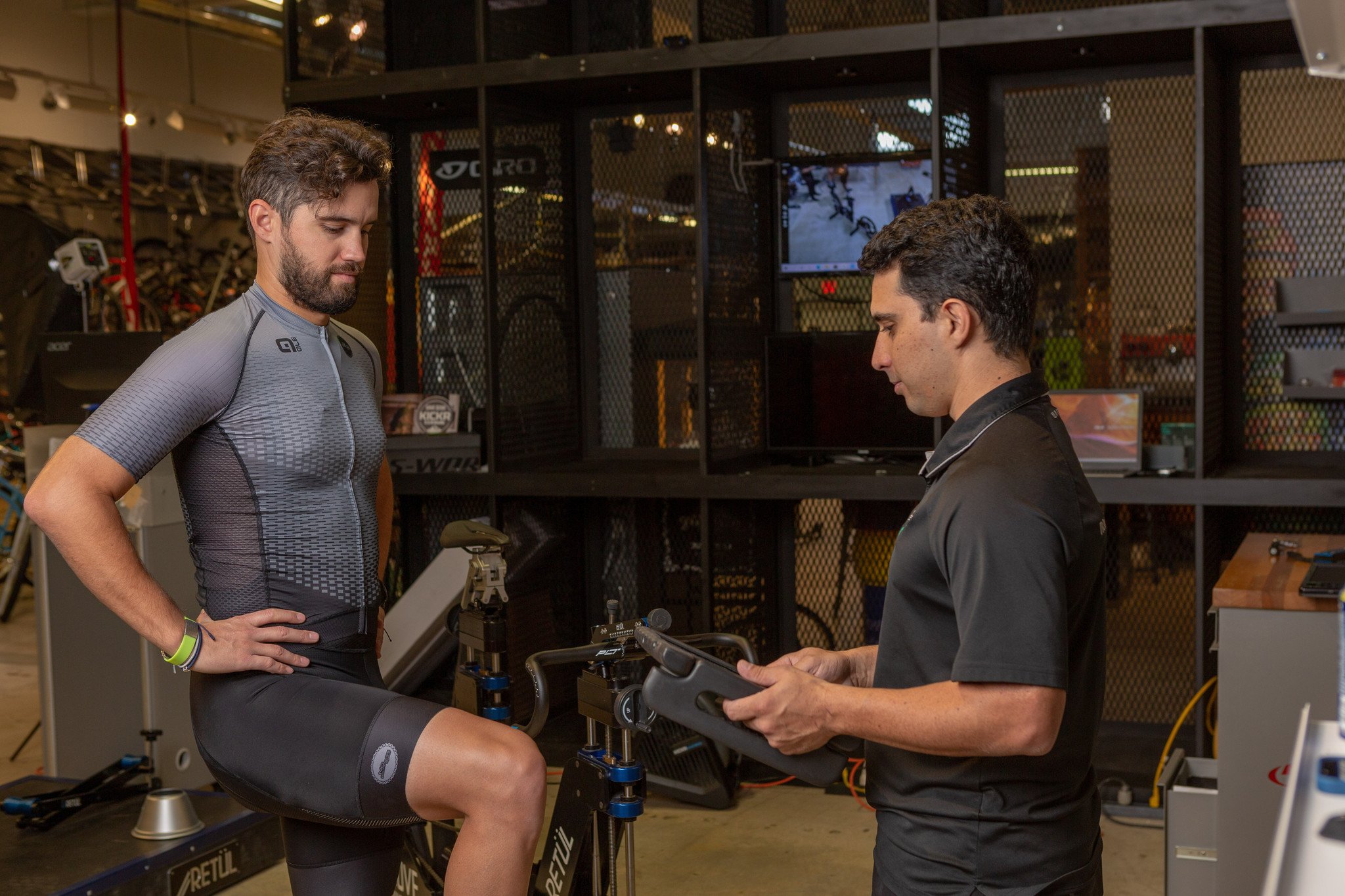 The Fit Process. This is the section that becomes very technological and interesting for the customers as well as me. Attaching eight body sensors to the rider gives us live data of the customer as they ride. I have tested this on myself and I have come to find it very interesting how any movement (even the slightest) can alter the angle of the body. Personally, I can ensure you that the plain eye can't see this without technology. Afterward, we find or make sure the sitting bone support is correct.
Saddle selection can be confusing when you read or buy online but trying them on the spot makes the biggest difference. After we have found the proper saddle the steps go from bottom to top. Starting with making sure the shoe is in good condition. We assure to find that the shoe is appropriate in length, width, and cleat placement. We continue to saddle height fore/aft as we also move on after to the handlebar width, reach drop, and lever position.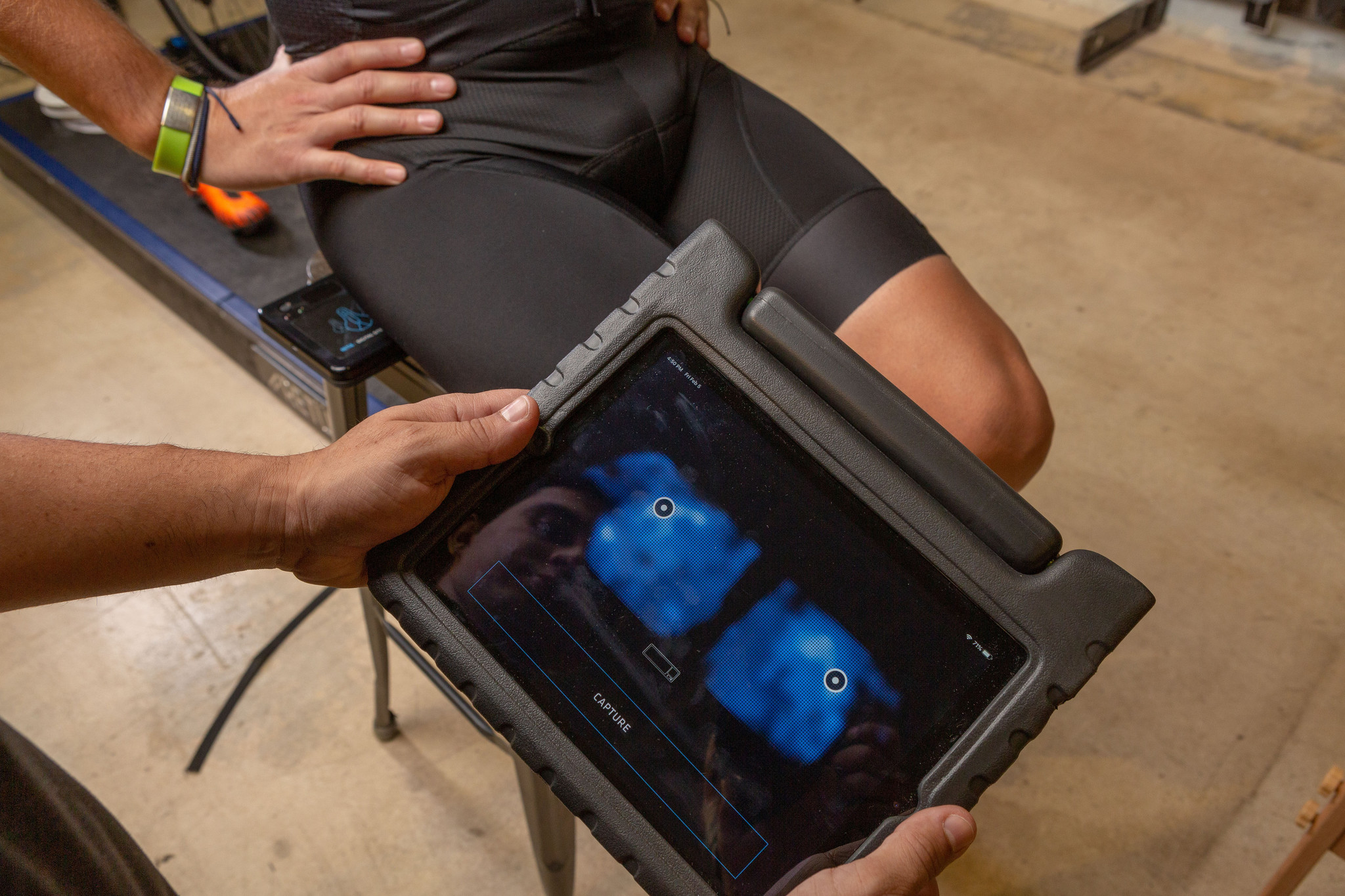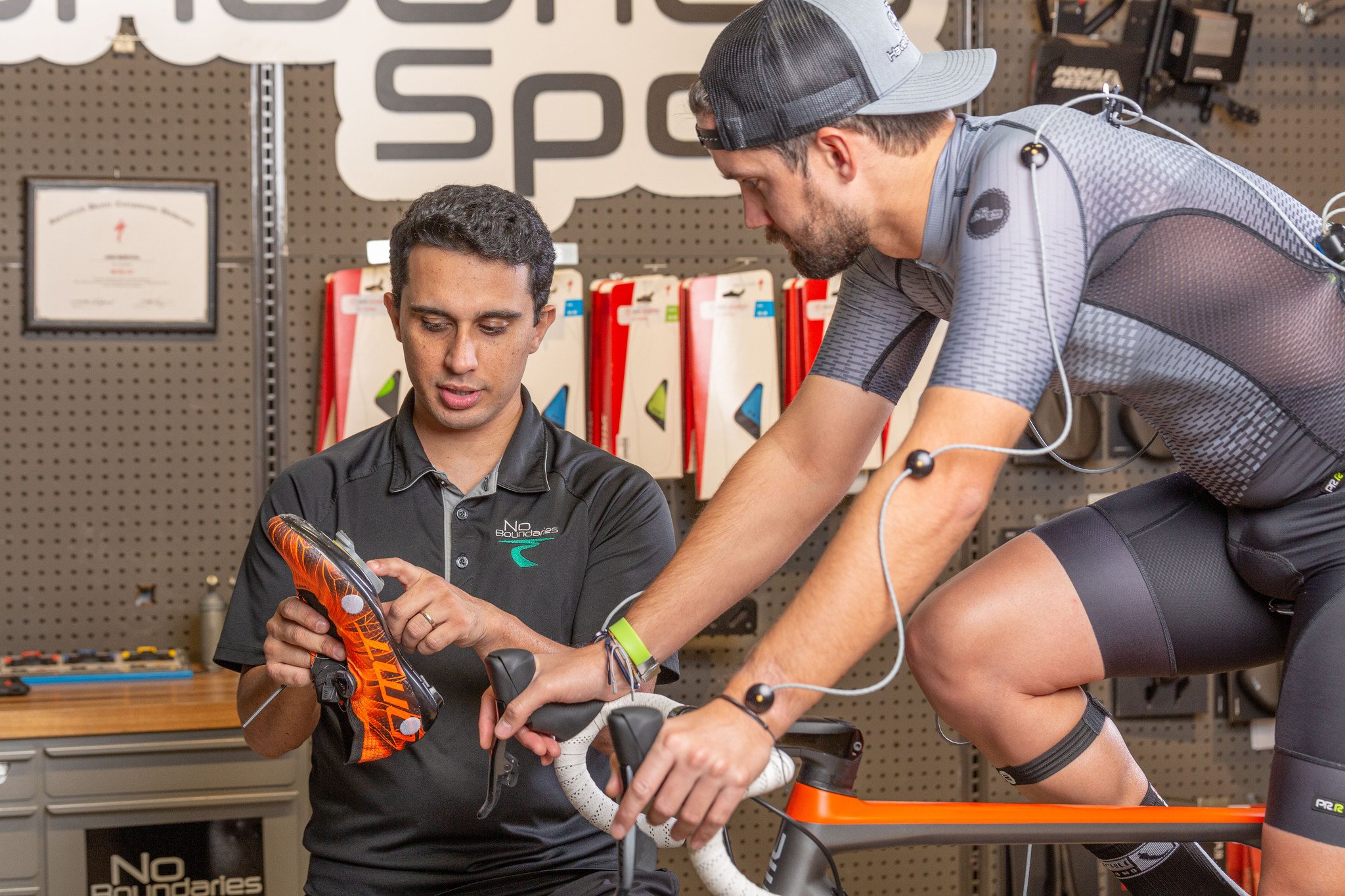 Last but not least, the 'Z Plane Assessment'. This is where all that foot, knee, hip pain can be corrected or supported. It is surprising to find how many riders don't know what a foot wedge is. All these steps help me get the rider in the best comfort, injury prevention, and performance position. Now, riding on a trainer at the fit studio and riding outdoors is a bit different which is exactly why a follow-up appointment is set up for 2-3 weeks after the initial fitting.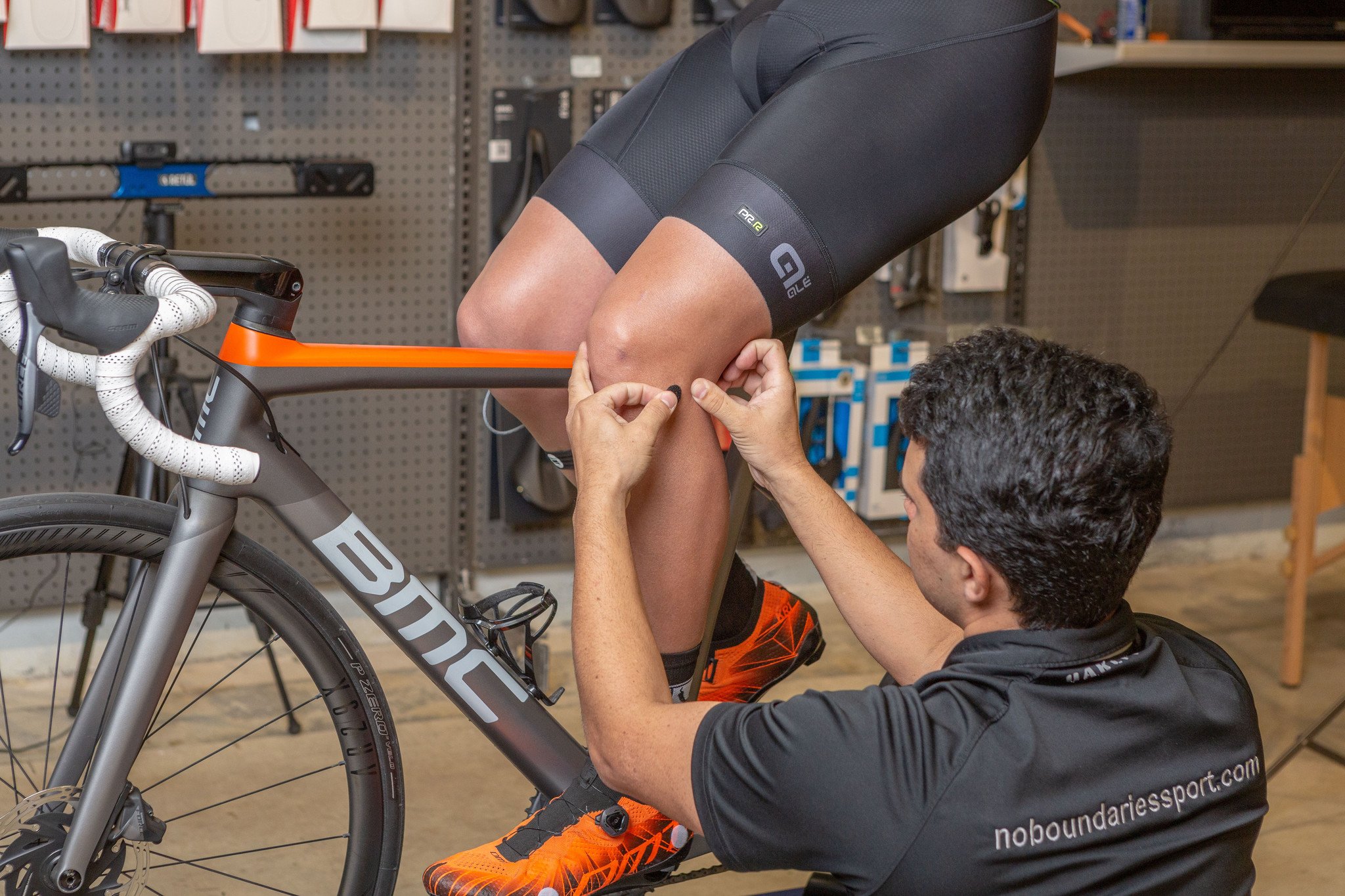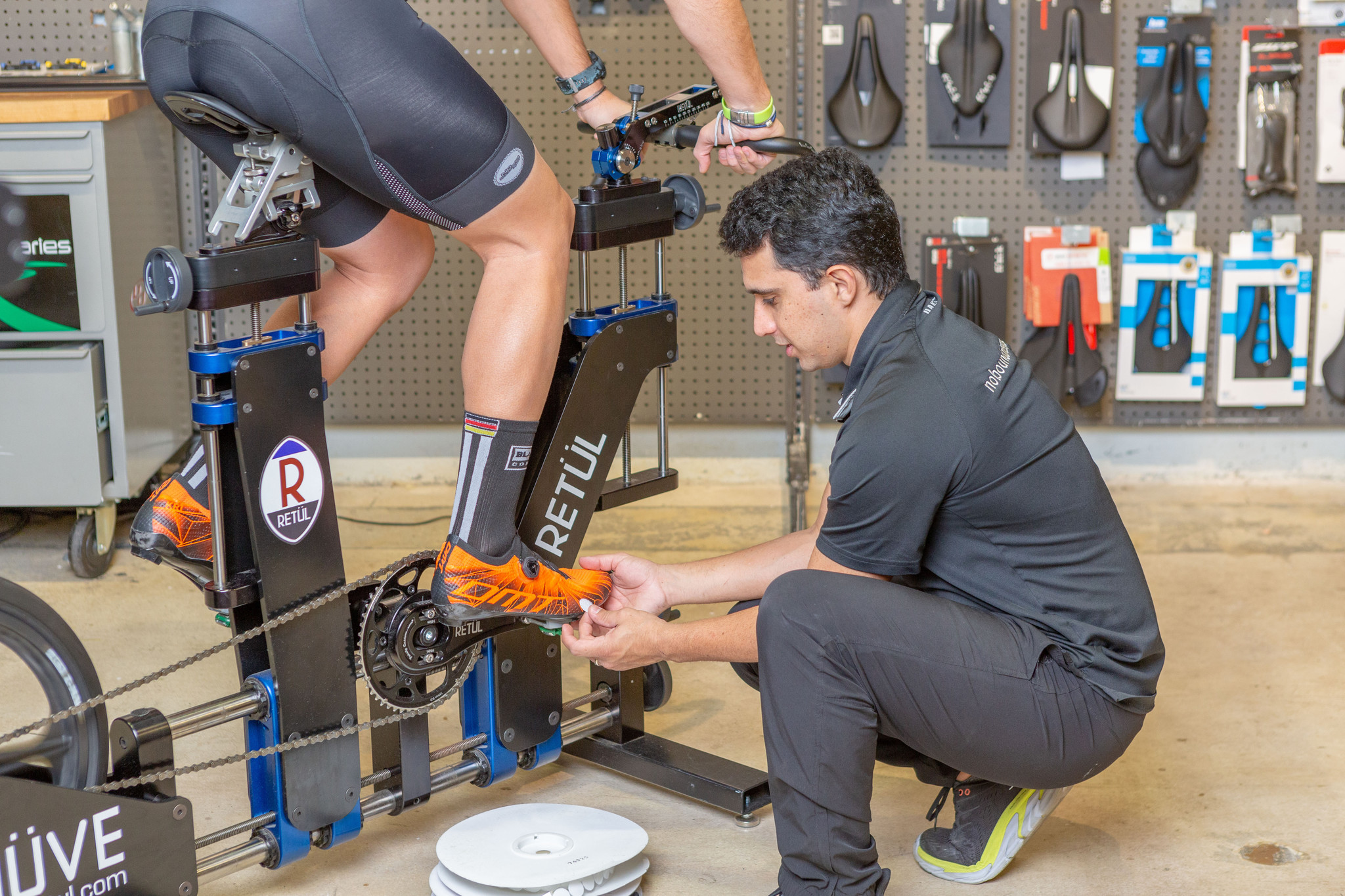 Book Your Retul Bike  Fitting Appointment
Financing at No Boundaries Sport Stores: At No Boundaries Sport We offer in-store financing with 0% interest for 12 months. In all our products.  Cycling, Running, Swimming, Hiking, Trekking, and more. For an application stop by our stores.
Bike Trade-In at No Boundaries Sport Stores: A bike trade-in is a process where you exchange your old or used bike for a new or upgraded bike at a bike shop or retailer. The value of your old bike is taken into account as a discount towards the purchase price of the new bike.
The advantages of a bike trade-in include:
Cost savings: A bike trade-in can help you save money on the purchase of a new bike. The value of your old bike can be used as a discount towards the purchase price of a new bike, which can help reduce the overall cost.

Convenience: Trading in your old bike is a convenient way to upgrade to a new bike without having to go through the hassle of selling your old bike yourself. The bike shop will handle the sale of your old bike, so you don't have to worry about finding a buyer.

Environmental benefits: Bike trade-ins help reduce waste by giving old bikes a new life. Instead of throwing away your old bike, it can be refurbished and resold, which helps reduce the amount of waste in landfills.

Upgraded features: By trading in your old bike, you can upgrade to a new bike with improved features and technology. This can help enhance your cycling experience and make your rides more enjoyable.
Overall, a bike trade-in is a convenient and cost-effective way to upgrade to a new bike while also promoting sustainability.
At No Boundaries Sports Stores We Take Trade-In. Bring your bike to our stores or call us to know the value of your bike.
Bike Rent Miami and Fort Lauderdale Area: Bike rental services provide a convenient way for people to rent bicycles for short periods of time, typically ranging from a few hours to a few days. 
       At No Boundaries Sport we offer  Road, Mountain, Electric, Hybrid, Cruiser, and Tandem Bikes Rent.     
       We also provide safety equipment such as helmets and locks to ensure that riders are safe while they are out on the road.