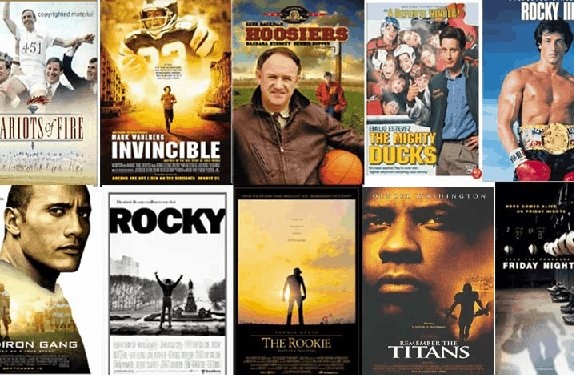 5 inspirational sports movies that you have to see.
Through the movies we can create and imagine another reality, thanks to them we rebuild histories, live unique experiences and feel intense emotions: we cry, laugh, scream, fall in love and also receive inspiration.
Each person analyzes them, feel and value in their own way but sometimes we saw movies and we remember that you can reach everything that you want to!
If you are like No Boundaries Team and choose to have a passion and unlimited life we want to share with you 5 movies that will inspire you to head for your goal instead of the obstacles:
The pursuit of happiness (2006)
The Oscar winner starring Will Smith. It tells the story about Chris Gardner's life, a hard-working father who makes big efforts to offer a better quality of life to his son, he doesn't stop until he reaches his goals despite the difficulties that arise.
Forrest Gump (1994)
¿Who has not been delighted with Forrest Gump? This movie starring Tom Hanks shows us the whole life of Forrest Gump, a man with special conditions in a literal way, who isn't afraid of nature and social obstacles and the authentic way that he meets them.
The Rookie (2002)
In this list, you must not miss the stories of commitment and improvement related to sport. The film that we suggest you, is based on the real story of Jimmy Morris, starring Dennis Quaid. It describes the life of a professional baseball player who in his youth never managed to reach the major league; after several years, he has become a husband, father, teacher and baseball coach in a high school, Supported by his students, who challenge him to take the tests to integrate the major leagues, he managed to reach his goals. This film presents a dilemma between the parameters imposed by society and even by ourselves and the ability we have to work towards our goals.
Million Dollar Baby(2004)
A film that highlights the value of women in sports as well as gender-related stereotypes. Hillary Swank plays a woman who practices boxing and decides to formally train to appear in the most important competitions of the discipline. For that she will need the support of her coach, a retired boxer who is against the participation of women in sports.
Chasing Mavericks (2012)
If you love extreme sports or the big goal, you MUST see this great movie!
It is the real story about a person who has a clear vision of what he desires to be and go for it from the bottom his heart! 
You will see the formula of success in one young man: powerful vision, determination, and infinite passion.
We won't tell you more. Please click on it and enjoy it!