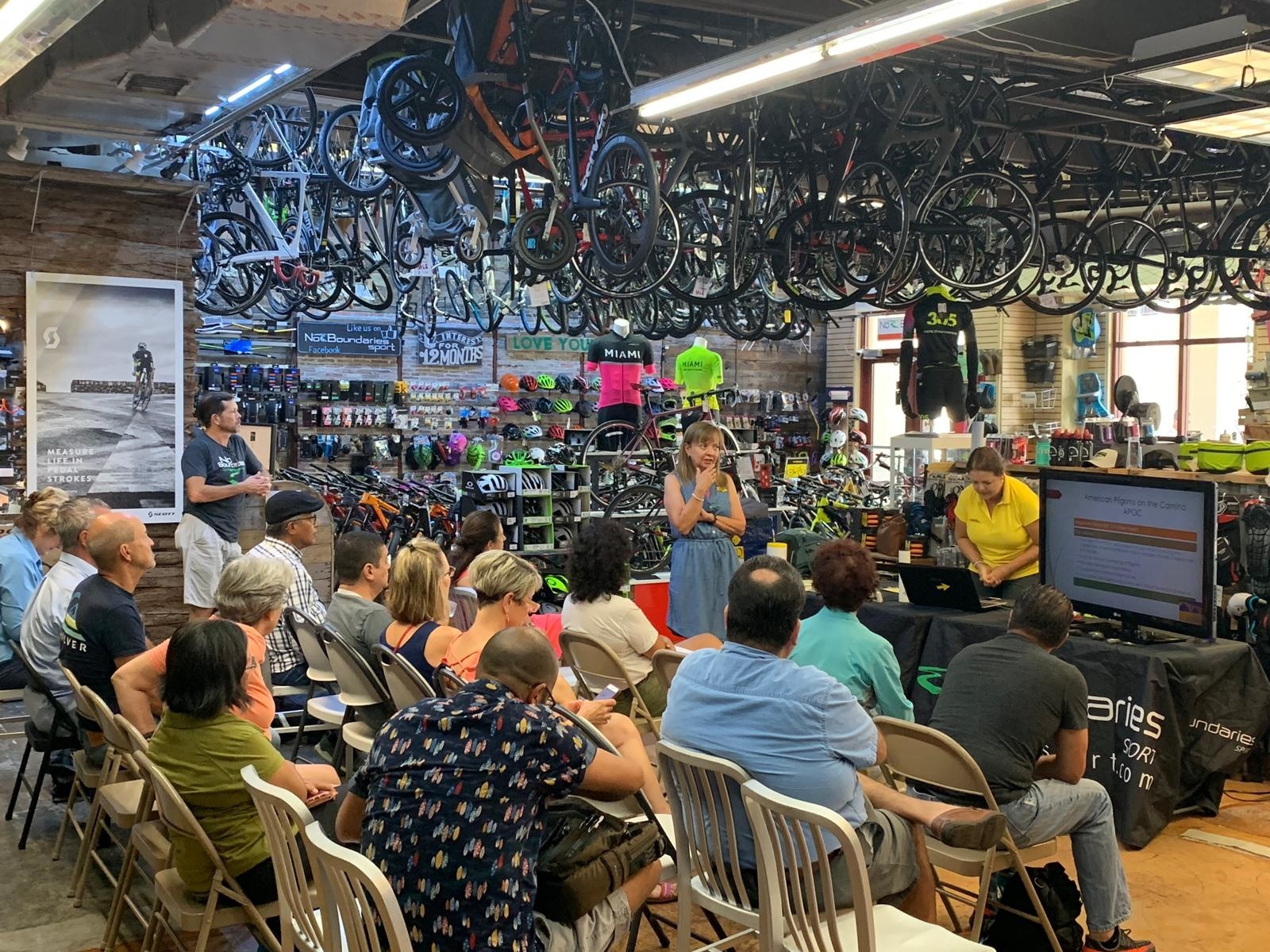 We already Discovered Why "El Camino de Santiago" is on everybody's Bucket List
Last week we had the great opportunity of welcoming part of the representatives of American pilgrims on the Camino, South Florida Chapter. As you know, we have a great selection of products that will enable you to have a comfortable experience and they have complemented this information by sharing many more details about the experience.
So, if you are thinking of doing the Camino, you probably know that there is too much information about it. It is sometimes even a little overwhelming and every person has something to tell you but they made this simple.
Following you will find the answers to some of those frequent questions about the Camino
What's the Camino de Santiago?
The Camino de Santiago (the Way of St. James) is a large network of ancient pilgrim routes stretching across Europe and coming together at the tomb of St. James (the apostle James, the Elder, Santiago in Spanish) in Santiago de Compostela in north-west Spain.


Is there more than one Camino de Santiago?
The Camino Francés is the most traveled route but there are additional routes throughout Spain and all of Europe. Historically, pilgrims walked out their front door and walked until they reached Santiago and then walked home. Please see the Routes Overviews page on our website for more information. The site Mundicamino, among other, has further information.

How far do I have to walk each day?
This depends on the person, but you will walk!  On popular routes like the Camino Francés, there are more options for overnight accommodations so shorter days are possible. Typically, people walk 15 to 20 km a day but it really is a personal decision. Not all kilometers are the same: it will depend on the weather, the scenery, who you're walking with and how much sleep you got the night before.

Do I need to carry my backpack?
There are backpack transport services available on all of the more commonly travelled routes. If you don't feel you can't safely carry your backpack, talk to any albergue volunteer or hotel desk person and they can direct you to an affordable backpack transport service.

What type of weather can I expect?
Hope for the best and expect the worst.  If you are planning on walking several weeks, you are likely to experience all types of weather. Summer can be very hot and in winter you'll likely experience snow especially at higher elevation.  Galicia is known for its rainy weather year-round.
We encourage you to check out the climate tables on our Online Resources page.
Remember that weather and climate are not the same thing! Weather is what you're likely to get in the next few days. Climate is a long-term average. The fact that your buddy had fabulous weather last May has zero bearing on what you'll encounter!
What type of accommodations are there?
Accommodations run the gamut! There are albergues that charge between €6-€15 per night which will get you a bunk bed, shared bathrooms and sometimes access to the kitchen to prepare food. Albergues can be public, private or run by Camino associations or religious organizations. There are also small family-run hotels which fall into the €25-€40 range. Finally, there are business and luxury hotels that can find on any hotel booking site. The peak of the accommodation pyramid is the Spanish parador system!
If you want to read more about it go to: https://americanpilgrims.org/faqs/
And don't hesitate to pass by the store if you have any other question about the gear, backpacks, shoes or whatever you need!